The Best five Indian Hindi Web series
Another reason for people to move towards Web Series is because of its extremely unique content and limited episodes which keep all of us at loggerheads.  Here I list the top 5 web series which will keep you hooked to the screen without blinking. In the middle of this COVID-19 pandemic Web Series have gained popularity turning almost all the crowd towards itself. Due to its extremely short episodes and unique storyline which had never been seen nor heard (probably because of censor board) in Bollywood. Made with the most talented self-made actors, without any nepotism here we will list the best Web Series which will keep you hooked to your screen.
05. Made in Heaven
I will put this Made in Heaven web series in top 5 position. One of the most amazing Web Series on Amazon Prime which will take you through the experience of attending all the weddings that you ever missed in this lockdown.
Set in the life of  Tara (Sobhita Dhulipala) and Karan (Arjun Mathur) who apparently work as wedding planners. The big fat weddings  and the wedding planner are located in Delhi where they try and get successful in solving all the problems thrown in their way of giving their clients a successful wedding. Click here to watch on Amazon.
04. TVF Pitchers

TVF Pitchers is the interesting in its unique story. How would it feel to imagine your life been lived through the four friends? As they decide to start their own company while struggling with their own dilemmas. Just five episodes but you would end up being on a roller coaster ride while you will ask yourself, "What am I? You can watch this web series here.
03. Kota Factory
One of the best Web Series which lives the life of a student struggling to live the dreams of getting into IIT. Jeetu Bhaiya- one character which made all the youngsters across the country wish to have a mentor like him.

This series will completely make you enjoy the dreadful life of a student who achieves his dreams.
02. Sacred Games Season one and two.

One of the most fantastic and unique Netflix originals  dealing with  crime, police, corruption, Indian household, transgender issues, and whatnot. With Nawazuddin and Saif acting which gave life to the character is a must-watch.
01. Mirzapur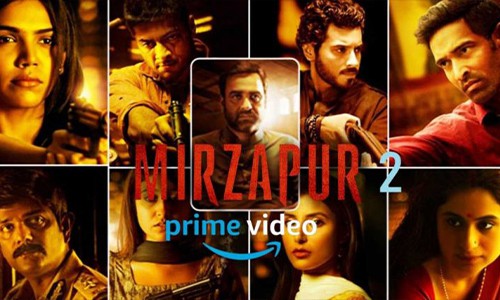 Mirzapur is one of the best web series which i will put in the first position. Sacred Games will leave you wanting for more. To quench the thirst Mirzapur is the best series which sets in the life of a mafia boss. It is available on Amazon Prime.
Dealing with the family and father and son relationship along with crime and violence with deep thrilling experiences, never heard dialogues. Mirzapur will surely keep you on the edge of your seat. See the trailer of season 2.